THE LOST WOMEN OF AZALEA COURT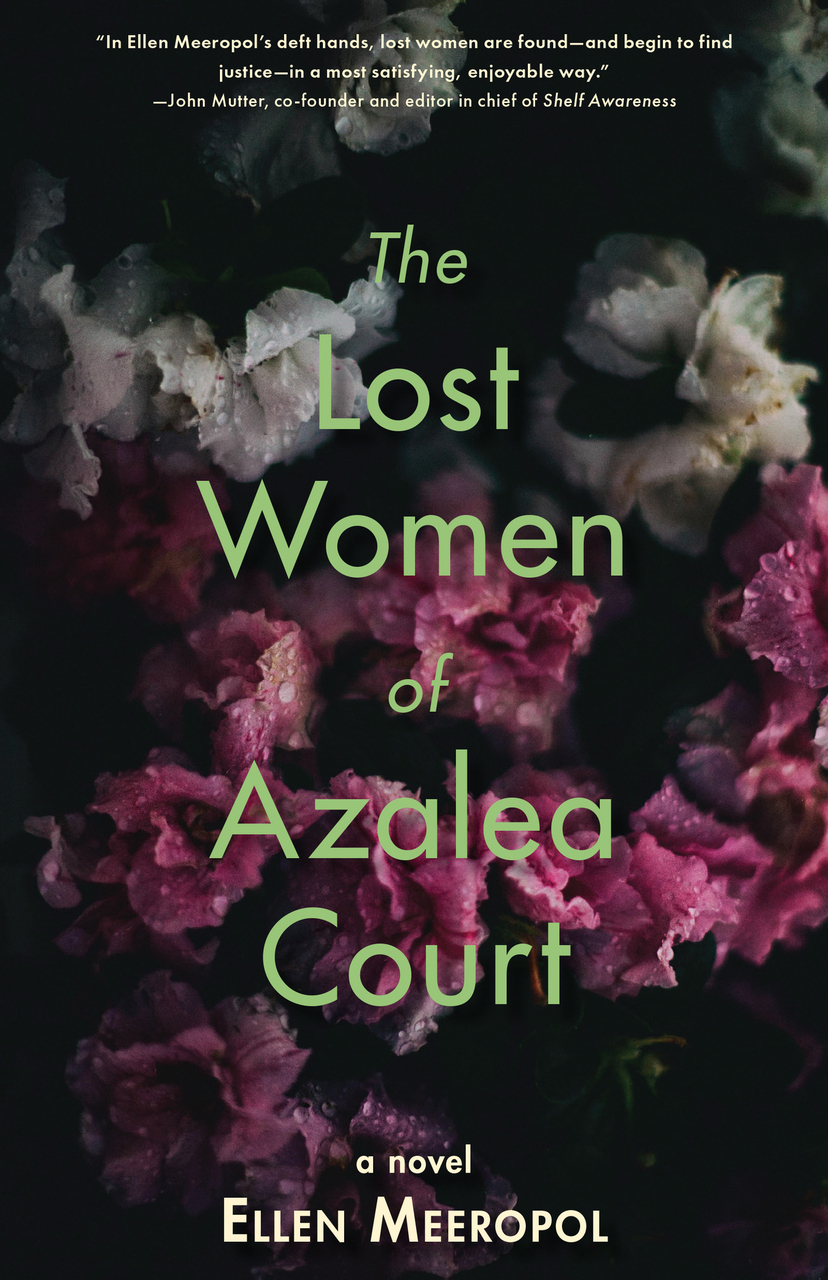 The Lost Women of Azalea Court begins on a chilly November morning, when eighty-eight-year-old Iris Blum goes missing from Azalea Court, a six-bungalow development on the grounds of a long-closed state mental hospital. Her husband, Asher Blum, was the last head psychiatrist at the hospital, and he is writing a book about the treatment of mental illness. Their daughter Lexi, the neighbors, and police detective McPhee suspect Dr. Blum of being involved in Iris's disappearance. When the searches and interviews come up empty, the neighbor women dig into the past--Asher's childhood experiences with anti-Nazi partisans in the forests of Poland, unethical practices at the mental hospital, and Iris's mysterious best friend, Harriet. Lexi, the neighbor women, a homeless woman who befriends Iris, and Detective McPhee uncover the ghosts, secrets, and lies of the past; together, they narrate this story.
This is a story about sisterhood and about how we treat mental illness and about taking care of each other despite our differences. It's also about the sins of the past and trying to move beyond them. Or not.
"The small and isolated neighborhood of Azalea Court has always been surrounded by an air of mystery. The morning that Dr. Blum wakes up and finds his wife, Iris, missing will open the door to the secrets he's been keeping for decades. Everything comes back to the decommissioned mental hospital that Azalea Court was originally built as housing for, and where Dr. Blum once worked. The history of the medical community's approach to mental illness is central to the story and many of the characters' experiences. The rest of the residents of Azalea Court are about to have their quiet lives turned upside down by the disappearance of their neighbor. The inhabitants' mundane and sometimes secretive backgrounds are brought to the forefront as the search for Iris continues and questions are asked. The varied cast of characters tell the story of Iris' disappearance in their own voices, colored by their unique pasts and experiences. The dynamics of neighborhoods and the prying eyes of the people that observe our day-to-day lives make for an interesting read."—2022 Booklist Reviews
"In The Lost Women of Azalea Court, hidden histories haunt both the landscape and the characters. I cherished the page-turning qualities of this well-crafted, fast- paced story."
—Lisa Downing, Director, Forbes Library
"A richly-told story of a marriage—and a community—unraveled by secrets, knit back by love. The Lost Women of Azalea Court is a beautiful, wise, and big-
hearted novel."
—Jennifer Rosner, author of The Yellow Bird Sings
The Lost Women of Azalea Court begins with a seemingly simple, explainable mystery: an eighty-eight-year-old woman disappears from the house she shares with her husband, a psychiatrist, and the former head of the now-closed state mental hospital for which Azalea Court served as staff housing. But that mystery is just one of many related, slowly unveiled mysteries and secrets, some of which go back to the Holocaust and the Red Scare after World War II. In the search for the missing woman, the women of Azalea Court, a delightful mix of characters, unexpectedly band together. In Ellen Meeropol's deft hands, lost women are found—and begin to find justice—in a most satisfying, enjoyable way.
—John Mutter, co-founder and editor in chief of Shelf Awareness
"A compelling tale of family secrets, friendship, and private traumas set on the grounds of a long-closed state asylum. The investigation into a missing woman unearths the hospital's darkest history. Fantastic setting and taut pacing."
—Kathy Crowley, co-owner, Belmont Books
You can order The Lost Women of Azalea Court here.
DREAMS FOR A BROKEN WORLD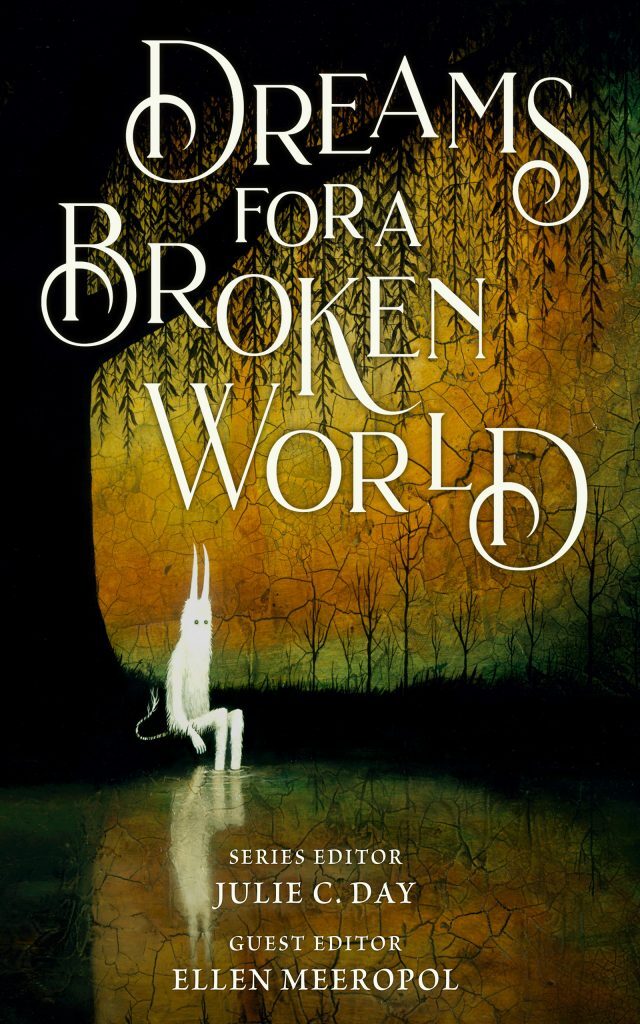 Our world is broken. Our society is rife with injustice and inequality, war and environmental disaster, racism and hatred. Stories help us dream other futures. When we read, or write, about individuals and communities fighting for justice, we grow to believe in these possibilities. Maybe we even join the characters, breaking through barriers and building new connections.
This anthology draws from both genre and literary traditions to dream together about a more just world. Included here are original stories, reprints, and novel excerpts. The mix of genres, from literary to fantastical, from dark to playful, from speculative to activist, offers perspectives that are varied, imaginative, thoughtful, and provocative. The work traverses an array of styles, genres, and subject matter. And yet themes connect these stories. What does it mean to live in a fractured and uncertain world? How do we face the ugliness? How do we find a better way forward?
Dreams for a Broken World is the second anthology published by Essential Dreams Press an imprint of Reckoning Press; all the proceeds from sales of these books are donated to a non-profit doing work to fix our broken world. Julie C. Day is the series editor and Ellen Meeropol joins her as guest editor of this book, to benefit the Rosenberg Fund for Children. The RFC is a non-profit, public foundations that aids children in the U.S. whose parents are targeted, progressive activists. They also assist youth who themselves have been targeted as a result of their progressive activities. The RFC was founded in 1990 by Ellen's husband Robert Meeropol, who was orphaned at age six when his parents, Ethel & Julius Rosenberg, were executed at the height of the McCarthy Era. The RFC helps children who are experiencing the same nightmare that Robby and his brother endured as youngsters, by funding vital services like summer camp, cultural classes, therapy, attending a progressive school, or traveling to visit a parent in prison. Since its start, the RFC has awarded more than $7.5 million to benefit hundreds of children in the U.S. progressive movements including the struggles to preserve civil liberties, wage peace, safeguard the environment, combat racism and homophobia, and organize on behalf of workers, prisoners, immigrants and others whose human rights are under threat.
You can preorder Dreams for a Broken World HERE.
Her Sister's Tattoo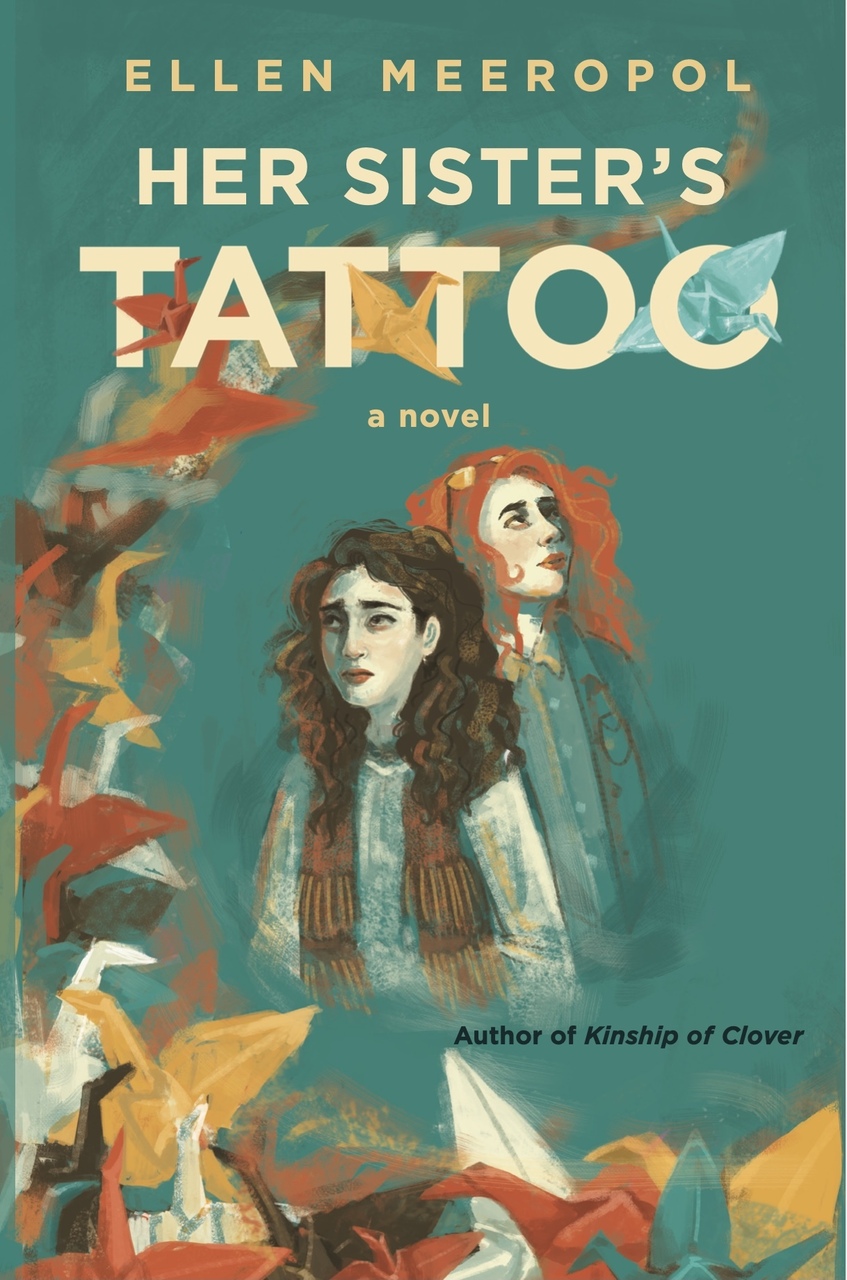 In August 1968, Rosa and Esther Cohen march through downtown Detroit protesting the war in Vietnam. The march is peaceful, but when a bloodied teenager describes a battle with mounted police a few blocks away, the sisters hurry to offer assistance. Trying to stop the violence, they instead intensify it. An officer is seriously injured. Rosa and Esther are arrested and charged with conspiracy and attempted murder.
For Rosa, their arrest offers an opportunity to make a political statement, another way to protest an unacceptable war. Esther wants to avoid prison and stay home with her infant daughter, Molly; the only way to do that is to accept a plea bargain and testify against Rosa at trial. The consequences of these actions lead one sister underground and to prison, the other to leave town to bury her past in a new life. Molly grows up unaware of her family history until she meets Rosa's daughter, her cousin Emma, at summer camp.
Told from multiple points of view and through the sisters' never-mailed letters, and bracketed by the Vietnam and Iraq wars, HER SISTER'S TATTOO explores the thorny intersection of sibling loyalty and clashing political decisions.
Her Sister's Tattoo was a finalist for the Sarton Award and long-listed for the Chautauqua Prize.
"The elegant restraint of Ellen Meeropol's prose and the painstaking precision of her vision offer us discerning glimpses over decades and generations into the complexities of political engagement—its big questions and especially its intimacies. At a time when radical movements are on the rise, we find in Her Sister's Tattooexactly what we now need: both caution and hope." — Angela Davis
"Her Sister's Tattoo is a story of not just of two sisters but of our country, where politics have so often torn apart families, loved ones, and communities. This tenderly told novel brings humanity to all sides of struggle, lifting us with its grace, compassion, and hope for the future. I highly recommend." — Rene Denfeld
"Her Sister's Tattoo is an honest and riveting portrait of anti-war activists and the price individuals and families pay for their actions, no matter how just. It is also a portrait of how lies and secrets can eat away again at both individuals and everyone in their families, particularly children. Meeropol evokes both the fear and exhilaration of protest." — Marge Piercy
"Rarely has the political been more heartrendingly personal than it is in Her Sister's Tattoo. Within the story of these incandescent sisters, Meeropol contains a lifetime's worth of devastating choices and the remorse that inescapably follows.
At a time when politics are again threatening to rip the American family apart, this might just be the novel we need." — Andrew Foster Altschul
"A sensitive exploration of the excruciating dilemmas of seeking to end horrendous crimes while keeping to the principle 'First, do no harm.'" — Noam Chomsky
Kinship of Clover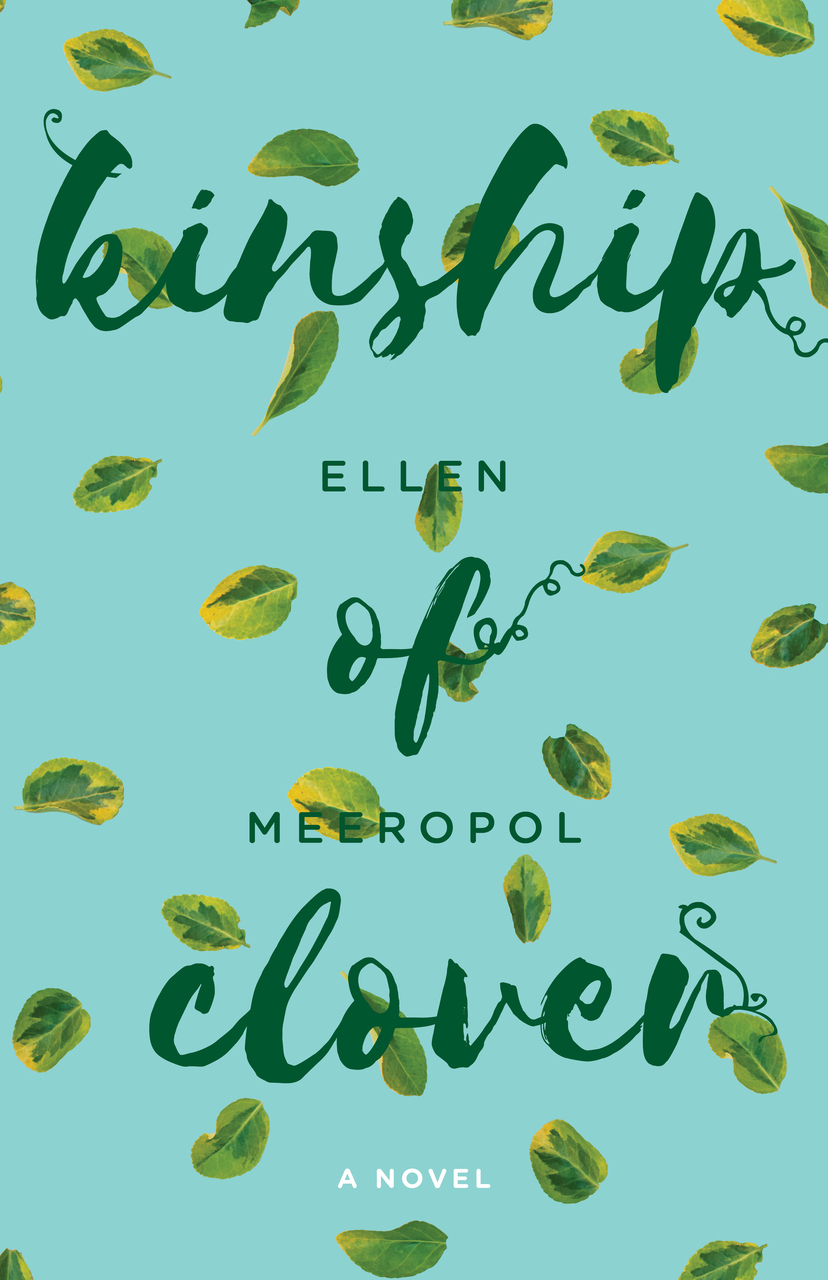 Jeremy was nine when the vines first wrapped themselves around him and burrowed into his skin. Now a college botany major, he is desperately looking for a way to listen to the plants and stave off their extinction. But when the grip of the vines becomes too intense and Health Services starts asking questions, he flees to Brooklyn, where fate puts him face to face with a group of climate-justice activists who assure him they have a plan to save the planet, and his plants. As the group readies itself to make a big Earth Day splash, Jeremy soon realizes these eco- terrorists' devotion to activism might have him—and those closest to him— tangled up in more trouble than he was prepared to face. With the help of a determined, differently abled flame from his childhood, Zoe; her deteriorating, once–rabble-rousing grandmother; and some shocking and illuminating revelations from the past, Jeremy must weigh completing his mission to save the plants against protecting the ones he loves, and confront the most critical question of all: how do you stay true to the people you care about while trying to change the world?
KINSHIP OF CLOVER was named one of the "7 Best Books from Indie Publishers Right Now" in June, 2017, by PBS News Hour, and chosen as a Great Group Reads for 2017 by the Women's National Book Association. It was a finalist in literary fiction for the 2018 Best Book Awards sponsored by American Book Fest.
Praise for Kinship of Clover
"Ellen Meeropol's new novel, Kinship of Clover, is heartbreaking and haunting, with a cast of finely drawn and deeply memorable characters."
—Frank O Smith, Portland Press Herald review
"Ellen Meeropol has an uncanny knack for examining the big topics of our contemporary world and putting a human face on them. In Kinship of Clover, she does this with intelligence and a big generous heart. An important book by a unique writer, it's a must read."
—Ann Hood, author of The Knitting Circle
"Midway through this wonderful novel, you will find a woman dancing in her wheelchair. That scene is one of many memorable moments in a story about young people organizing for a sustainable future, even as their once-radical elders try to hold on to a gradually disappearing past. This is a book about time and love, politics and family, and it is sharply observant and deeply compassionate."
—Charles Baxter, author of The Feast of Love
"Ellen Meeropol brings her keen political sense and psychological understanding to this story of family secrets and family trauma. Kinship of Clover is compelling and the characters stay with you long after you've finished the book."
—Nancy Felton, co-owner, Broadside Bookshop (Northampton, MA)
On Hurricane Island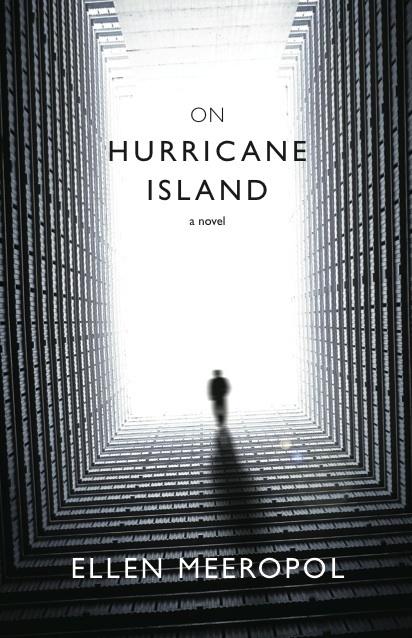 As a major hurricane heads for New England, math professor Gandalf Cohen is picked up at JFK Airport en route to an academic conference. She is hooded and cuffed by federal agents and flown in a small plane to a secret detention center on an island off the coast of Maine. Austin Coombs, a young local resident, is newly hired as a civilian guard and assigned to Gandalf. She needs the job, but is uneasy about working at the facility. Raised by her grandparents on a nearby island, Austin has grown up with stories of the troubles on Hurricane Island and has always been fascinated by the place.
FBI special agent in charge Henry Ames is plagued by doubts and heartburn. He is annoyed that his bosses haven't told him anything about the new detainee except that she might have critical intelligence about her former grad school colleague. Gandalf's only hope is Austin. The young guard is increasingly upset with Tobias' rough treatment of the professor. As the storm intensifies and slams the island, the conflict between Henry and Tobias detonates and Tobias becomes obsessed with breaking Gandalf. If the women are to survive, Austin must choose sides and stand with Gandalf against the abuse of power.
Told by multiple narrators on both sides of the political divide over five days approaching the anniversary of 9/11, On Hurricane Island is both a fast-faced political thriller and a literary examination of critical issues facing our society. How far should government go in the name of protecting our national security? How free are citizens when governmental powers of surveillance and extra-legal interrogation are expanded?
On Hurricane Island was named a Must Read in Fiction by the Massachusetts Book Awards.
Praise for ON HURRICANE ISLAND:
"At this frightening moment of surveillance and intimidation, On Hurricane Island could not be more timely. Amid forces grand and small, distant and local, with an echo of forgotten history and two unintentional heroines who refuse to be victims, Ellen Meeropol's story is fierce in its indictment of nasty government action and human connivery." – Rosellen Brown, author of Before and After
"On Hurricane Island is unflinchingly political, unashamedly suspenseful, and, above all, deeply human. Here is a writer who knows how to ramp up the tension while never sacrificing the spirit of her conviction, the sense of grounding in the natural world, or the heartbreaking complexity of her characters." – Naomi Benaron, Bellwether Prize winner for Running the Rift
"On Hurricane Island is a chilling, Kafkaesque story about what happens when the United States does to citizens at home what it has done to others abroad. Meeropol puts the reader right into the middle of these practices through characters about whom you really care and a story you can't put down; a really good book." – Michael Ratner, Center for Constitutional Rights
"On Hurricane Island takes us into the world of an imprisoned math professor who is clueless as to why she's being interrogated. We enter the reality of federal agents facing terrifying expectations, and of a rookie civilian employee horrified by secret tasks thrust on her. Ellen Meeropol's masterful novel rings of truth—a petrifying truth that had me whipping pages, covering my eyes, and questioning how much I really know about the growing cost of the war on terror." – Randy Susan Meyers, author of The Comfort of Lies
"In On Hurricane Island, Ellen Meeropol takes on the complexities and dangers of contemporary life in a novel that starts fast and ratchets up the tension all the way to the end. She brings to her writing a sharp, observant eye, great skill in characterization, and, best of all, a talent for taut, suspenseful narrative in the style of Graham Greene." – Walter Wetherell, author of A Century of November
House Arrest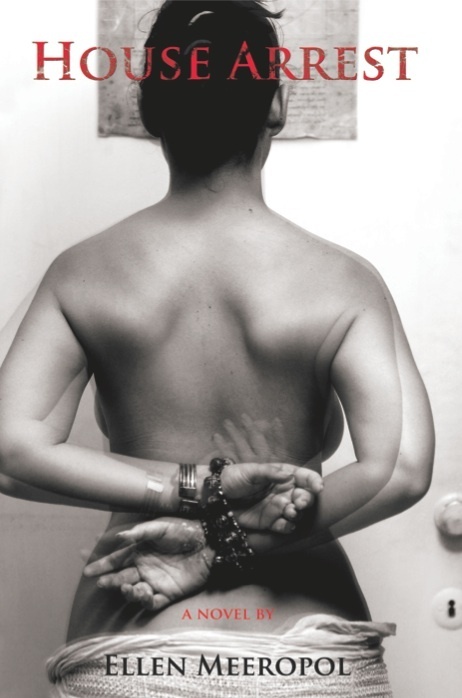 Home care nurse Emily Klein usually loves her work. But her new assignment – prenatal visits to a young woman under house arrest for the death of her toddler daughter during a Solstice ceremony – makes her uneasy. Maybe it's Pippa Glenning's odd household and the house arrest monitor. Or the court involvement that reminds Emily of her parents' political activism and her father's imprisonment. But when she can't get out of the assignment, Emily is determined to do right by her high-profile and unconventional patient.
Pippa's racially mixed Family of Isis is in turmoil. Without Tian – the cult leader and Pippa's lover who is in jail awaiting trial for the deaths of two toddlers – the group struggles to keep the household and their Tea Room business functioning. If Pippa follows the rules of her house arrest, she may be allowed to keep her baby, but as the pregnant woman in the family it's her duty to dance for Isis at the upcoming winter Solstice ceremony. To escape the house arrest without being caught, she needs Emily's help.
Despite their differences, Emily and Pippa's friendship grows. Emily's friends – her cousin Anna with whom she lives, Anna's ex-husband Sam who shares in caring for their young daughter Zoe who has spina bifida, her best friend Gina – all warn Emily that Pippa is trouble. When her grandfather dies, Emily reluctantly agrees to accompany Anna to the island in Maine where she was sent to live when her father went to prison. On the island, Emily begins to grapple with her parents' choices a generation earlier.
At home the media hypes the Frozen Babies Case. Anti-cult sentiment in the city escalates to angry protests and increasing violence. As the winter Solstice approaches, both Emily and Pippa make decisions about their responsibilities to their families, their communities, and to each other – decisions that put their lives, and Pippa's unborn baby – in jeopardy.
Set in Springfield, Massachusetts and on an island in Penobscot Bay, the story is told from the alternating points of view of Emily, Pippa, Sam, and Gina. House Arrest explores the necessity of sometimes breaking rules to serve justice.

"In this strong first novel, an unusual relationship develops between a home-care nurse and the pregnant cult member under house arrest to whom she is assigned prenatal visits... Meeropol's work is thoughtful and tightly composed, unflinching in taking on challenging subjects and deliberating uneasy ethical conundrums." –Publishers Weekly (starred review)
"In this suspenseful, richly plotted novel, Ellen Meeropol explores the moral complexities of politics and medicine as they intersect with the private sphere of family. She is acutely sensitive to the nuances of long-suppressed sorrow and regret; with equal insight, she successfully immerses the reader in a wide range of characters. House Arrest is smart, provocative, and moving." –Julia Glass, The Widower's Tale
"What drives Ellen Meeropol's compelling debut is an essential moral question about what a family sacrifices when a parent lives according to higher political ideals. What keeps you reading are Meeropol's astutely observed diverse cast of characters who draw you into their dilemmas, their world, and most importantly their heartaches." –Heidi W. Durrow, The Girl Who Fell From the Sky
"... an original, riveting, and suspenseful yet warm and sensitive story that deftly explores the concepts of right and wrong, the unequal balance between rigid law and common sense, the unintended consequences of political activism, and the decisions people make when faced with tough life choices." –William D. Bushnell, The New Maine Times
"Meeropol raises bold questions and allows her handful of main characters to debate the merits: What constitutes a family, and who decides which variations qualify? When is it acceptable to bend the rules, and at what expense? Is it possible to separate actions from consequences? ... [T]he central characters weigh in at various points along the moral spectrum. Still, for all the judgments they render, the book is uncommonly generous. Meeropol seems to suggest that moral clarity comes not from blind certainty, but from depths of doubt and questioning, which are nearly palpable in Emily and others. And yet, the story never bogs down, thanks to the ongoing suspense of Pippa's fate and the interplay of so many vividly-drawn characters. Factor in Meeropol's effortless style, and an intricate tale becomes almost a referendum on free will. This multi-genre novel defies easy classification. Part medical mystery, morality tale and psychological drama, it's above all a terrific read." –Joan Silverman, The Portland Press Herald
"Ellen Meeropol's courageous debut novel explores what it means to live by the principle of compassion, even in defiance of the rules and the rule-makers. It is about the power of ceremony, the hard road to healing, survival and transcendence in the face of unbearable loss. Meeropol, herself a longtime nurse and activist, brings an authentic voice to this moving tale of the ethical and political choices faced by health care practitioners, and by all of us."
–Martín Espada, The Republic of Poetry
"House Arrest probes with insight and sympathy two harrowing questions that will always be with us: How do we forgive others and how do we forgive ourselves? Whether the pain Ellen Meeropol's characters confront arises from ill-considered political action or more intimate irresponsibility, she knows that guilt and retribution cause searing wounds, but she has built a fascinating story about the unquenchable promise of healing."
–Rosellen Brown, Before and After